Earlier in the year I bought some fiber from Abby Franquemont (
huaman
and
http://abbysyarns.com/
)
2 of the skeins weren't labeled -- one I know was Tide Pool, but I'm not sure which was which. Anyway:
I took the one I think wasn't Tide Pool; it was about an ounce of dramatically colored fiber, that looked to be solid wool. I split the roving in half with the intention of spinning up two bobbins and plying it together, keeping the colors more-or-less in synch. Unfortunately, Kalli (my dog) did a snatch and run with most of one half when I was distracted by the phone. So, I spun one half up as planned; the remainder I sent through my drum carder a few times after I retrieved it. This was the first time I'd used it, so it ended up a bit nappy, but spun up ok.
I had moved to the center whorl on my flyer as I'm trying to spin thinner, and it took a bit with both to get tension adjusted and to get into a comfortable rhythmn, but I was pretty pleased with the end singles. The original roving was pretty brilliantly colored blue/green/purple, the blended batt was more subdued.
this single is from the more blended batt (the photo of the other didn't come out):
I then took the 1oz of Turtledove (80/20 wool/mohair) that I bought at the same time, and spun this -- it's pretty much a soft grey with hints of green:
The three singles together:
I plied the turtledove first with the blended single, and then the remainder with the more dramatic single. The first skein was the one I managed to ply in the same direction as the singles, as I posted about yesterday, but it re-plyed without much trouble. After washing to set the twist both skeins were balanced, and quite soft to the touch. I was a bit surprised at how similar they were in coloring (and how much the Turtledove toned down the colors!)
On bobbins (blended on left):
Washed and skeined: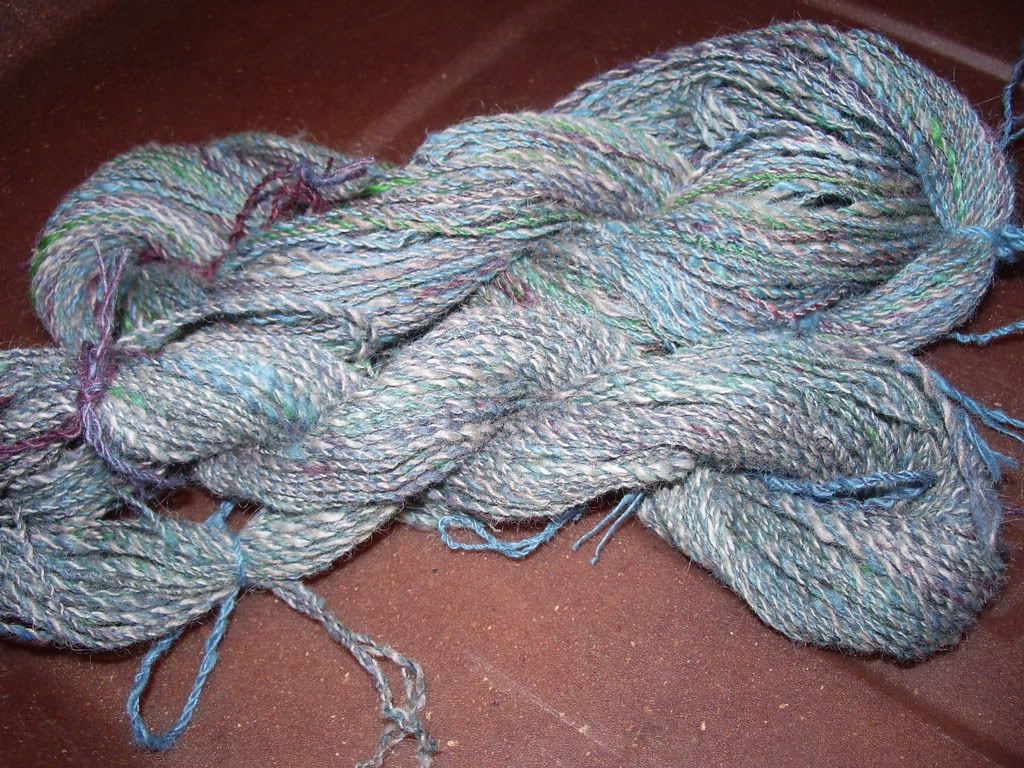 Close up (retied with my bad attempt at chain-plying the leftover single):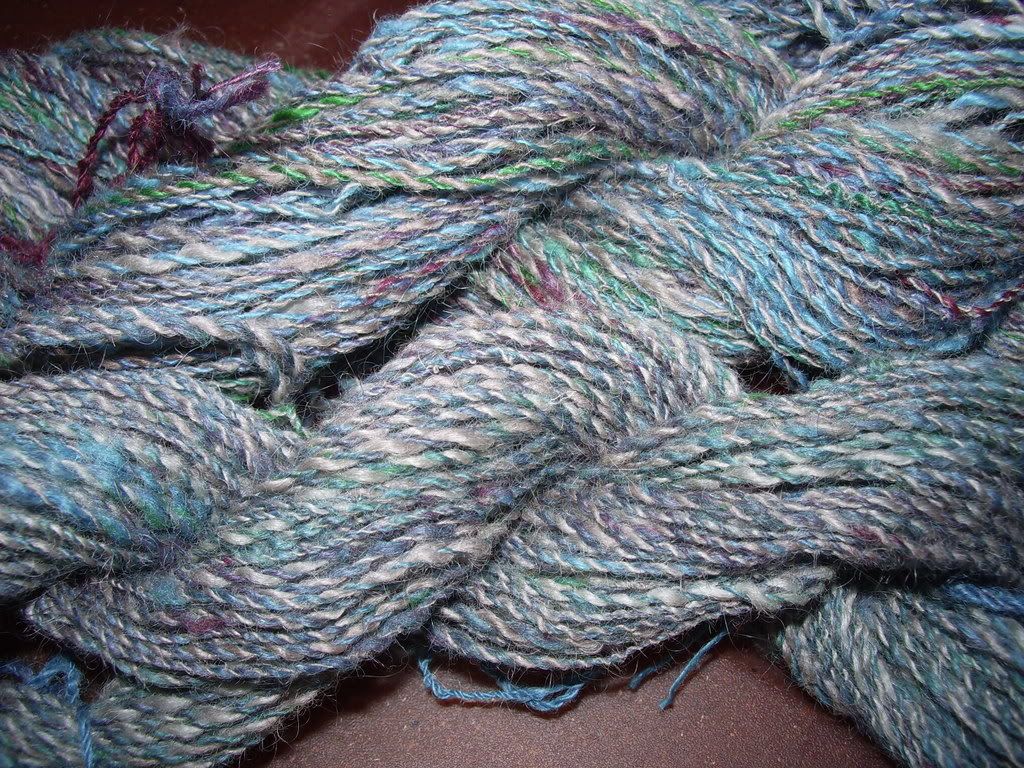 More pictures at:
http://s163.photobucket.com/albums/t307/Loredena/Spinning/Abby%20Franquemont%20Fibers/Turtledove%20and%20mystery%20fiber/
This morning I spun the one I assume is Tide Pool into a single. The invoice said wool/mohair, but it is also heavy in silk -- there's a lot of Tussah Silk, which tended to clump, and the rest of it felt pretty silky as well. It was a very silky soft prep -- at first I was pre-drafting until I got used to the length of the staple but then I just let it draft, and it drafted like a dream.
It went from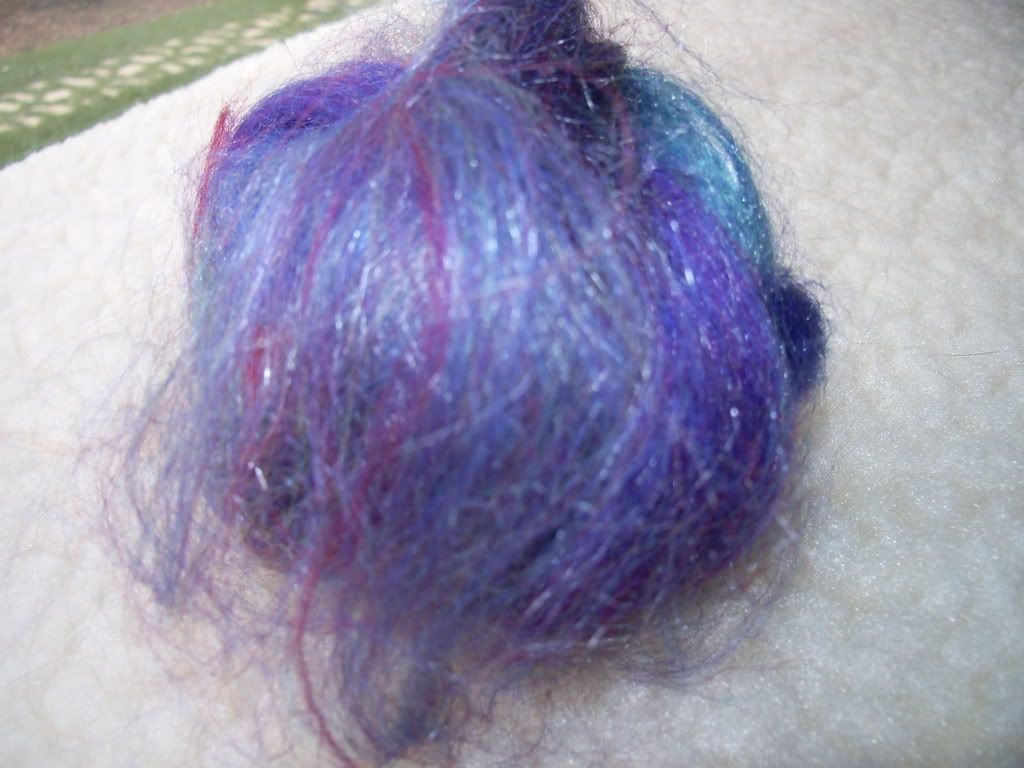 to
I took photos throughout the series to entertain myself, and posted them here:
http://s163.photobucket.com/albums/t307/Loredena/Spinning/Abby%20Franquemont%20Fibers/Tidal%20Pool/
For some reason it's in reverse direction in Photobucket though.
There was less then half an oz, so I don't really want to ply it on itself, and I don't have any idea what to ply it with, so right now it's occupying a bobbin. It's really pretty though :)